The 2017 PSATS Convention: From Planning to Presenting
As I made my way into the parking lot of the Hershey Hotel and Convention Center, the hugeness of the annual Pennsylvania State Association of Township Supervisors Annual Convention hits me all at once. The parking lot is packed with heavy machinery and vehicles on display, big busses headed in all directions, and people everywhere. The collective leadership of townships throughout Pennsylvania and a seemingly equal number of people vying for their business mill about talking and making introductions. The 95th Annual PSATS Conference and Trade Show was here. Just look at the agenda – it speaks for itself!

Planning for the Big Day
For those of us that presented at the conference, planning started when feedback was received on last year's presentation. What did they like, what did they not like, how can I get more people to attend, how can I get the organizers to give us a better slot/bigger room, why is it, that time constraints and too broad a topic seem to be my biggest complaint? These questions need answers for me to pick a new topic, and start developing my presentation.
Picking the Players
Rather than present by myself or with other members of my firm, this year we decided to put together a panel of municipal insurance professionals/experts. Once we chose the panelists, the topic pretty much presented itself. Our foremost goal was to simplify municipal insurance, so that the purchasers of the insurance have a better understanding of the products, what to ask for, and what they need. For this, we assembled a leading insurance broker, the best claims adjuster in the state, and myself, an attorney who has spent a career defending municipalities its officials and employees in civil litigation and administrative proceedings throughout the state. We have a panel; we have a topic. This lead to submitting a proposal by the due date. Once the proposal was made, we waited to hear if in fact, we would be presenting. The day before Christmas weekend we heard that our proposal was accepted and that we would be speaking!
Now the Work Begins
We put together an outline, did the research on latest developments, and developed questions for our distinguished panel. All tasks which lead to the submission of the materials. After creating a rough draft of our PowerPoint presentation, we reviewed it with our panel, and received valuable input, and better insight into what topics play into each panel member's strengths. Finally, the materials were perfected and submitted. We then convened the panel for a couple of dry runs through our presentation. We are now ready.
The Big Day
After traversing through the rain, people, front end loaders and busses, we arrived at the epicenter of the convention: Chocolate Hall. Registration and credentials were received, as well as greetings exchanged with old and new friends. Amidst the excitement and din of hundreds of people, I found my fellow presenters. One was in the great exhibit hall, where over 500 booths were set up with companies interested in reaching PSATS convention attendees. I wondered who would have the best giveaway this year. My PSATS-issued goody bag was slowly being filled with pens, mugs, T-shirts, and other fun trinkets.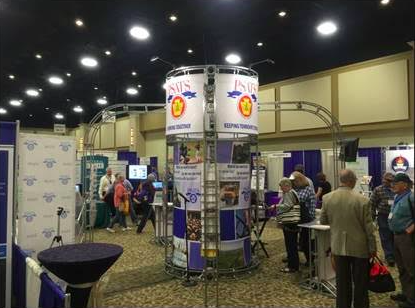 Prep for the Big Show
The panel is convened. We decide to have lunch and further discuss our presentation. We were confronted with a long wait for a table at all the lunch locations on the property. We decided to locate our presentation room while we waited for a table. This was no easy task because the Hershey Hotel and Convention Center cannot be navigated without a detailed map. There were over 20 meeting rooms, all set up to host a presentation or breakout session, all of which competing topically with our presentation. After finally locating our room (and hoping attendees would do the same), we had our lunch and were poised and ready to perform.
We Pulled it Off
We attracted a good crowd (not great). As the presentation began, our panel was on their game. Participation from our audience was animated, and engaged. Only one person walked out during the hour and half presentation, and he looked like he truly had somewhere else to go. The time goes quickly, but we manage to get through all of our slides and materials, and answer the last flurry of questions just as our time expired. Afterwards, many people came up to speak with us. The feedback we received was very good. The panel was pleased with our efforts.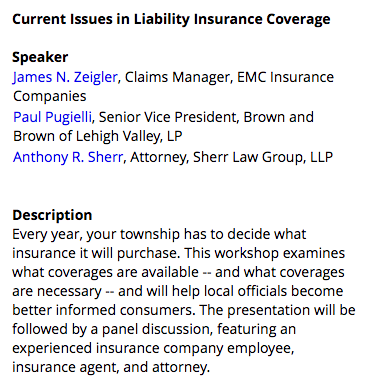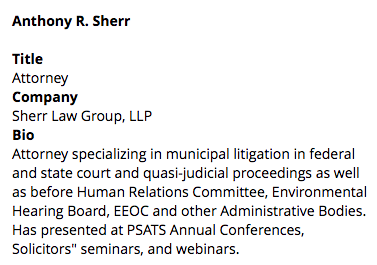 Taking a Breath
It's funny how after presenting, the Convention looked and felt different. All the pressures of the convention are behind us. We were now there as guests to partake in the hospitality rooms, kibitz with vendors, and to network. We were even able to join several municipalities for dinner and discussions. After an organized "social" back at the Hershey, we called it a night. Driving home and into the next morning, we allow ourselves to bask in the glory of a successful presentation. Was it worth all the work? We know it was. Very soon, thoughts of next year's presentation start looming around in my mind, turning into ideas for next year's presentation. It won't be long until we get our feedback which leads right into the 96th Annual PSATS Educational Conference and Trade Show. One thing I know for sure, I will be there, maybe even with the same panel members. They were awesome! Until next year…
If you are seeking an employment law firm in Pennsylvania to help your business – large or small – navigate the complex area of employment law, Sherr Law Group can help. Our team of Norristown employment law attorneys provide consultative services and help your business navigate litigation if necessary. Contact us at (484) 591-3000 to learn more.