After a year of practicing law side by side in the heart of Norristown, Pennsylvania, we seized a rare moment to sit down with the dynamic father-daughter litigation duo Tony and Stefanie Sherr. With a legacy of legal acumen and fresh perspectives, their partnership at Sherr Law Group has brought new energy and depth to the practice. As we delved into their experiences, ambitions, and unique collaboration, it became evident that their bond extends beyond family ties, making an indelible mark on the legal community. Here's a glimpse into our conversation.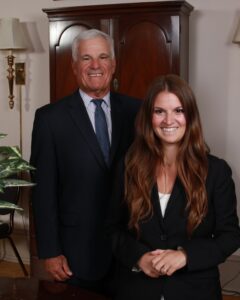 A Moment With Tony Sherr:
Having three generations at Sherr Law Group is a profound achievement. How does being based in Norristown, PA, with its rich history and community, play into the firm's identity and values?
Tony: It's truly humbling to witness the growth and evolution of the practice in Norristown. Our proximity to the heart of this community, especially with the Montgomery Bar Association right across the street from us, reminds us of our deep roots and commitment to our neighbors. A year ago, when Stefanie joined us, has also injected fresh vigor into our local presence.
Over your extensive Municipal Law and Crisis Management career, how have you seen the landscape change, particularly in Pennsylvania?
Tony: The legal intricacies of Municipal Law in Pennsylvania have evolved with technological and societal shifts. As for Crisis Management, dynamics have changed, necessitating a more integrated approach that understands local nuances.
Stefanie brings a unique perspective, especially from her time as a public defender. How do you see this enriching the firm's offerings, especially given Norristown's diverse community?
Tony: Stefanie's experiences equip her with a nuanced understanding invaluable for our Norristown clientele. Her insights, especially in Criminal Defense, cater to the varied needs of our community.
With Sherr Law Group's legacy and trajectory in mind, where do you envision the firm in the next decade, especially within the Norristown community and broader Pennsylvania?
Tony: I see us deepening our roots in Norristown and expanding our influence throughout Pennsylvania. Stefanie's addition last year paves the way for this vision, and I'm optimistic about our growth.
What advice would you give to young lawyers in Pennsylvania looking to make a significant impact in their respective fields?
Tony: Stay grounded in your community. Pennsylvania, and especially Norristown, offers a rich tapestry of experiences. Learn from them, uphold your values, and remember why you embarked on this journey. Get involved in the bar association and volunteer in the community.
Given that the Montgomery Bar Association is right across from your office, how has that proximity influenced collaboration, networking, or the firm's growth?
Tony: Being so close to the Montgomery Bar Association has fostered countless opportunities for knowledge sharing and strengthening our professional networks. It's an invaluable asset that constantly enriches our practice.
Our Chat with Stefanie Sherr
Joining Sherr Law Group in Norristown, with its storied legacy, must be significant. How does the local community influence your approach to law?
Stefanie: As the third generation of lawyers practicing at Sherr Law Group, I am honored to continue the firm's legacy in Norristown and have an intrinsic connection to the community. Every municipal and criminal defense client has a story intertwined with this town or as a broader part of the state. This is what drives my dedication and approach.
Your background as a public defender undoubtedly brings depth to your practice. How does this experience resonate with the needs of the Norristown community and Montgomery County?
Stefanie: Having worked as a public defender, I've seen the challenges many in our community face. This experience helps me provide tailored, compassionate representation, especially crucial for Norristown and Montgomery County residents.
Are there specific areas within Criminal Defense, perhaps influenced by local Pennsylvania issues, that you're particularly passionate about or plan to focus on?
Stefanie: I'm deeply committed to ensuring equitable representation, especially given some local challenges. As with any defense lawyer, I believe people are innocent until proven guilty. I put my heart into advocating for my clients and seeking to minimize an arrest's impact on my client's future.
Balancing tradition and innovation must be intriguing, especially in Norristown. How do you navigate this dynamic while working alongside your father?
Stefanie: It's a dance between reverence for the past and excitement for the future. Norristown's blend of history and modernity mirrors our approach at the firm. We learn from each other, drawing from tradition and pushing toward innovations and creative arguments when representing our clients.
As you envision your growth within Sherr Law Group, what aspirations do you hold for the firm's future, especially concerning its role in the community?
Stefanie: I aim to champion both local and broader legal causes. Our firm can be a beacon for justice in Norristown and extend our influence across Pennsylvania, always staying true to our roots and the success of two generations of Sherr lawyers before me.
Stefanie: The Montgomery Bar Association's proximity is invaluable. It offers a hub of education, collaboration, and mentorship. As my career grows, this connection serves as a foundation for continuous learning and community engagement. I love my volunteer work for the Bar, including serving on the New Lawyers and the Pro Bono Committees. I've learned from the best and am following in my Dad's and Grandpa's community involvement steps.